Main Page/Draft
From MidrangeWiki
---
This is a testing area for revisions, overhauls and improvements to the Main Page. This is needed because the wiki software, MediaWiki, has the Main Page configured to be one of a small set of pages which only a user with administrative edit privileges can edit, to prevent spam or vandalism.
---
Below is a copy of the Main Page wiki-code as of 15:47, 4 November 2013 (CST) — MrDolomite • Talk
---
Welcome to the midrangeWiki!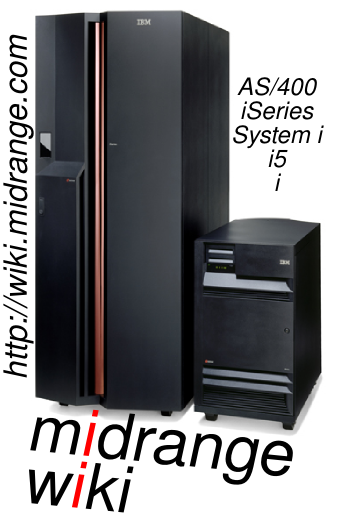 Welcome
The goal of this site is to provide information on the IBM i / System i / eServer iSeries / AS/400 system (yes, it has had a number of names).
All categories can be found in Special:Categories and [[Category:Categories]].
Overview
Operations
Programming
Languages
Tools
Editors
Certifications
Software
Midrange People in Social Media
Other Information
One of the goals of this Wiki is to replace the current Midrange FAQ with a somewhat more robust system. The current effort can be found in here.
The primary administrator for this site is David Gibbs.